A preview of the 8-series in four-door, full-sport form.
The concept is a thinly disguised preview of the production M8 Gran Coupe. There's "more" in the model designation: The M8 replaces the M6 and, again based on the 5-series, remains in essentially the same position in the market.
Visually, the Concept M8 Gran Coupe is akin to last year's Concept 8-series, which gives a good idea of the upcoming two-door coupe. The M8 treatment adds M-typical elements such as large wheels, massive air intakes, widened fenders, a carbon-fiber roof, a prominent spoiler, and four beefy exhaust pipes. A noteworthy detail is the roof, which keeps its Zagato-inspired indented center section. The kidney grille, the wheels, and the exhaust tips are finished in rose gold, a material that is increasingly popular on concept cars and likely to find its way into showrooms. The car is painted a blue-green called Salève Vert, after the name of a mountain above Geneva.
The M8 Gran Coupe and its lesser sibling, the 8-series Gran Coupe, will be powered by a range of six- and eight-cylinder gasoline and diesel engines. The M8's twin-turbo V-8 will make at least 600 horsepower and 553 lb-ft of torque—after all, it can't lag behind the M5—channeled to all four wheels through a rear-biased all-wheel-drive system. That's "more" than the predecessor's rear-wheel-drive setup.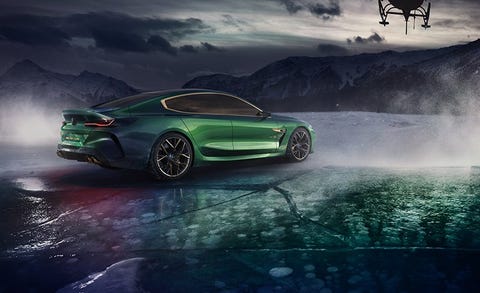 NEWSPRESS, THE MANUFACTURER