Ford is bringing back the beloved 4×4 SUV. Here's what to expect.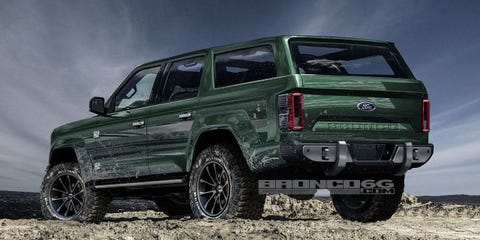 After ending production in 1996, the legendary Ford Bronco is making a comeback. Ford announced the Bronco's eventual return at the North American International Auto Show in Detroit back in 2017, and we've been waiting patiently ever since. As for when it'll make its debut, we're not 100-percent sure. Ford said it'll arrive by 2020, though, so there's a very good chance we'll see it debut at some point this year.
Pictured above and throughout: speculative renderings of the 2020 Bronco from fan-forum Bronco6G.com.
But, there is quite a lot we do know about the Bronco, based on credible rumors and comments from various Ford higher-ups since the announcement of the 4×4's return. We've compiled all that info for you here.
This story will be continually updated as new information is learned. The most recent update was published on 7/15/19.
It Might Spawn a Pickup Truck
Ford already has a mid-size pickup on the market, the Ranger, but it might give the Bronco a bed, too. Automobile Magazine reports that this truck will arrive in 2024 as a competitor to the Jeep Gladiator, a pickup based on the Bronco's closest rival, the Wrangler. Ford has made its intent to compete with Jeep quite clear, so it's easy to understand why the Blue Oval would want a Bronco pickup, even if it already has the Ranger in production.
This Raptor-Based Test Mule Could Be a Full-Size Bronco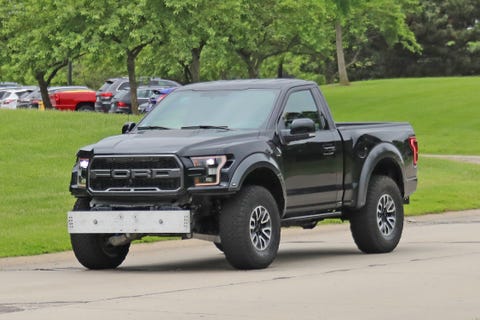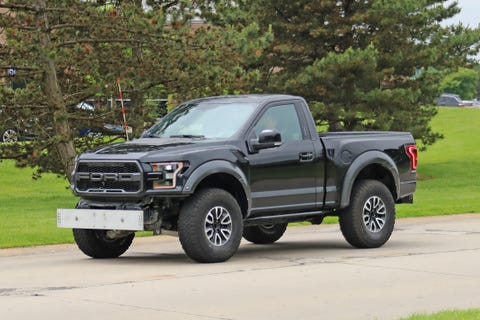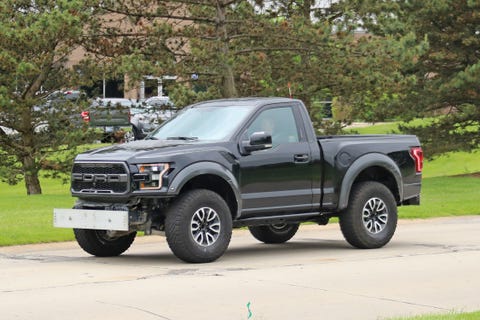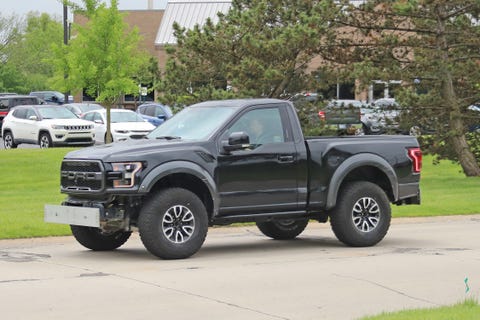 Spy photographers managed to capture this strange truck testing recently in Michigan, and we think it's a test mule for the new Bronco. Why? Well, it's too wide to be a Ranger, and Ford doesn't make a single cab F-150 Raptor. Plus, judging by our rough estimates, the dimensions line up.
Here's a Camouflaged Test Mule Driving Around Michigan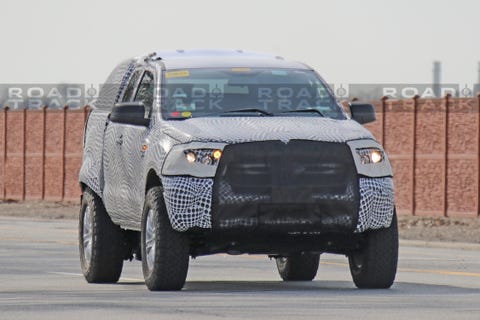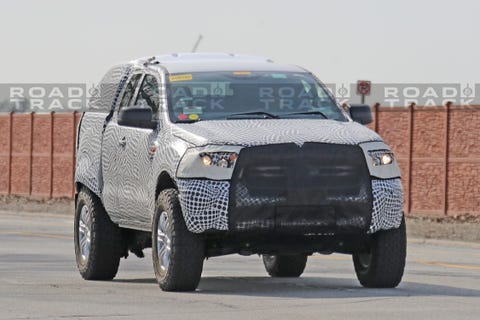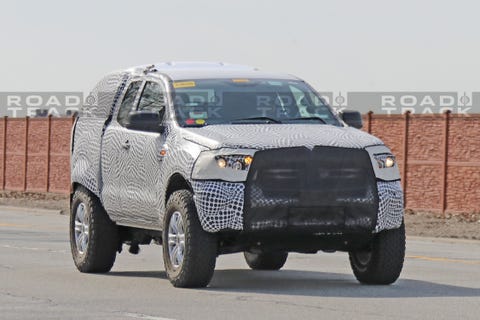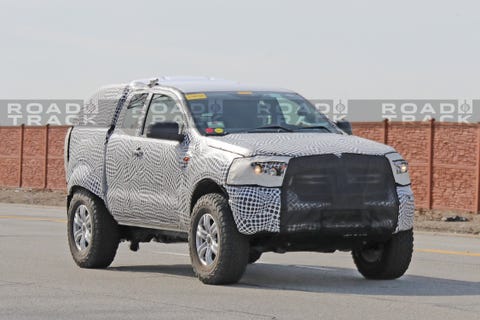 Our spy photographer managed to nab some good shots of a Bronco test mule out in public in Michigan. The bodywork is clearly from a current-generation Ranger pickup, but note how far back the rear wheels are pushed in this mule. Short overhangs are great for off-roading, so it seems like Ford is really trying to make this thing a Jeep rival. This truck is also wearing BF Goodrich All-Terrain T/A tires, which you can get for FX4-package Rangers and on the Jeep Wrangler Rubicon.
There Will Reportedly Be a Two-Door
The Jeep Wrangler's huge success is directly attributable to the availability of a four-door model, but you can still get a short-wheelbase two-door version. Ford will almost assuredly offer a four-door Bronco, but there's been a question if there'll be a two-door to rival the shorty Wrangler.
But, Automotive News now reports that at a recent dealer event in Palm Springs, Ford showed off a two-door Bronco prototype. Dealer sources speaking anonymously to Automotive News said the Bronco had a retro design with round headlights and a square grille with the truck's name stamped across.
The Doors and Roof Will Come Off
One of the big appeals of the Wrangler are that its doors and roof are removable. The same will be true of the Bronco, which according to Automotive News, will offer a removable hardtop and doors that can be stored in the trunk. Apparently, the mirrors will be mounted to the A-pillars, and not the doors as on a Wrangler. This means you'll still have mirrors when you take the doors off.
Patents submitted by Ford in April and published by Bronco6G.com indicate the Bronco could use a roll-out mesh roof or soft top to substitute for the hardtop once it's removed. A mesh piece would allow air to come into the cabin while blocking out sunlight. The patent drawings also suggest the cloth top could deploy behind the vehicle to create a makeshift tent area. Clever.
It'll Be Based on the New Ranger
When Ford announced the Bronco was making a comeback, it also confirmed that the mid-size Ranger would make a return. The 2019 Ranger arrived last January, and we've already driven it.
Back in 2017, Ford global operations president Joe Hinrichs confirmed to Road & Track that the Bronco and the Ranger would share a platform. The Ranger might be new for the US, but it's actually somewhat of an old truck—it was released originally for the Asia-Pacific market in 2010 and received a significant update in 2015. For the US, the platform was modified even further still, with a new, fully-boxed frame.
We Expect That It'll Share Its Drivetrain With the Ranger
For the US market, the Ranger gets a version of Ford's 2.3-liter EcoBoost inline-four that once found a home in the Focus RS. It makes 270 hp and 310 lb-ft of torque in the Ranger, and it's paired with a 10-speed automatic gearbox. Considering they share a platform, it's reasonable to expect the Bronco and Ranger will share an engine and transmission.
Except….
It Might Get a Manual Transmission
Jalopnik reported last year that the Bronco might get a seven-speed manual transmission to be paired with Ford's 2.7-liter EcoBoost V6. Presumably, if the Bronco does get this engine, it'll likely be paired with a 10-speed auto, too. In the Edge ST, Ford's 2.7-liter makes 335 hp and 380 lb-ft of torque, while it offers 325 hp and 400 lb-ft of torque in the F-150.
A manual might seem like an odd choice for a new SUV, but when you consider that the Bronco is aimed directly at the Jeep Wrangler, it makes sense.
Jeep has been incredibly successful in recent years, and Ford wants a piece of the pie. The most important thing Ford needs to mount an attack on Jeep is a competitor to the venerable and wildly popular Wrangler. That's where the Bronco comes in.
It's why—unlike Chevy with the new Blazer—Ford wants this thing to be a serious off-roader. Using the body-on-frame Ranger platform might make the Bronco a little less refined on road, but much tougher off road.
Does Ford's ambition to beat Jeep mean there could be a hardcore Wrangler Rubicon-competitor on its way? We hope so, but we don't know for certain.
A Hybrid Version Is a Definite
Ford's other big push beyond beating Jeep is to embrace electrification across its lineup. That's why it has a number of all-electric vehicles in the works, and a number of hybrids planned. Explorer and Police Interceptor hybrids are already here, and per Ford's quarter-one 2018 earnings report, a Bronco hybrid is on the way too, alongside electrified versions of the Mustang and F-150.
What that hybrid drivetrain will consist of? We're not sure. The Explorer/Police Interceptor Hybrid combines a 3.3-liter V6 with an electric motor housed within a 10-speed automatic transmission. That at least gives us some indication as to what future Ford hybrids, including the Bronco, would look like.
It's Getting a Little Brother
It seems to us, this will be Ford's attempt at coming up with a rival for the Jeep Renegade; not something like a Suzuki Jimny, unfortunately.
Automotive News also reports that the Bronco and it's "Baby" sibling will eventually be joined by a new unibody pickup truck with some off-road capability. It's all part of Ford's plan to be a better rival to Jeep.
It'll Arrive Next Year
Automotive News reports that at a recent dealer event in Palm Springs, Ford executives said the Bronco would arrive in showrooms in late 2020, a few months after the Baby Bronco.A few months after that, the unibody pickup would arrive. It's a long wait, especially for a truck announced in early 2017.