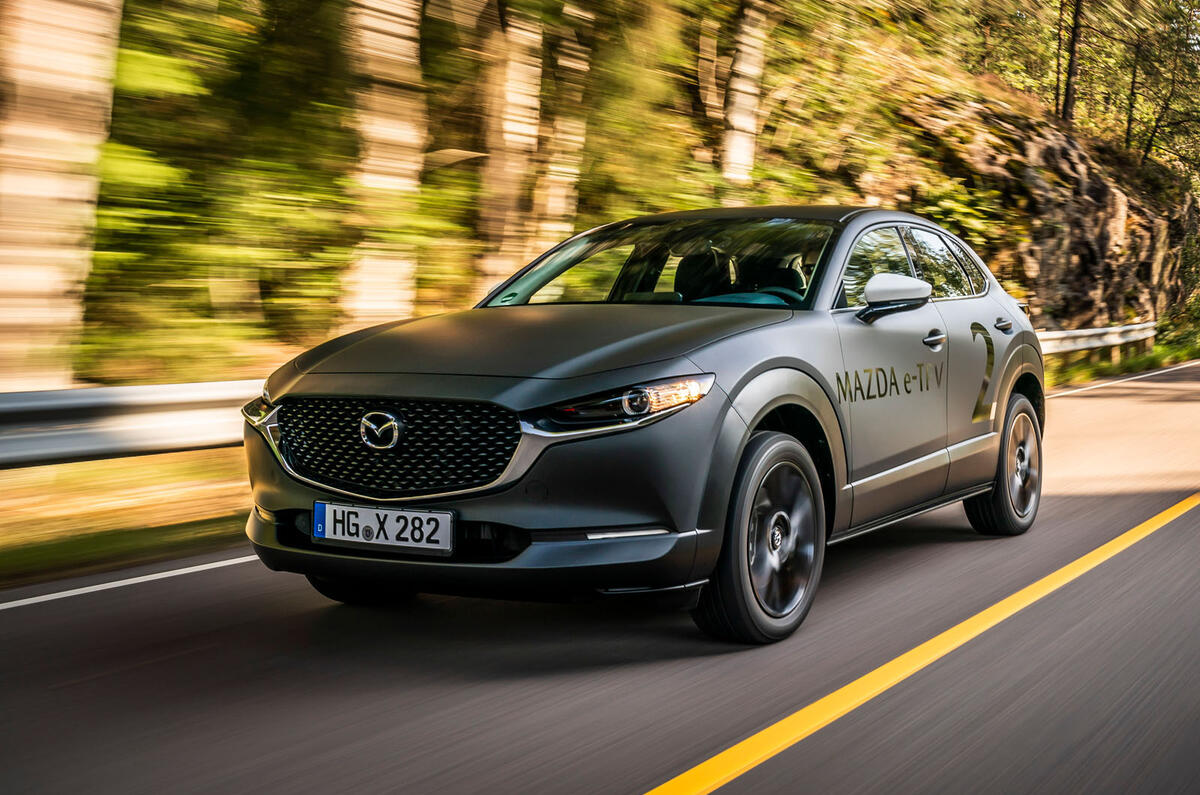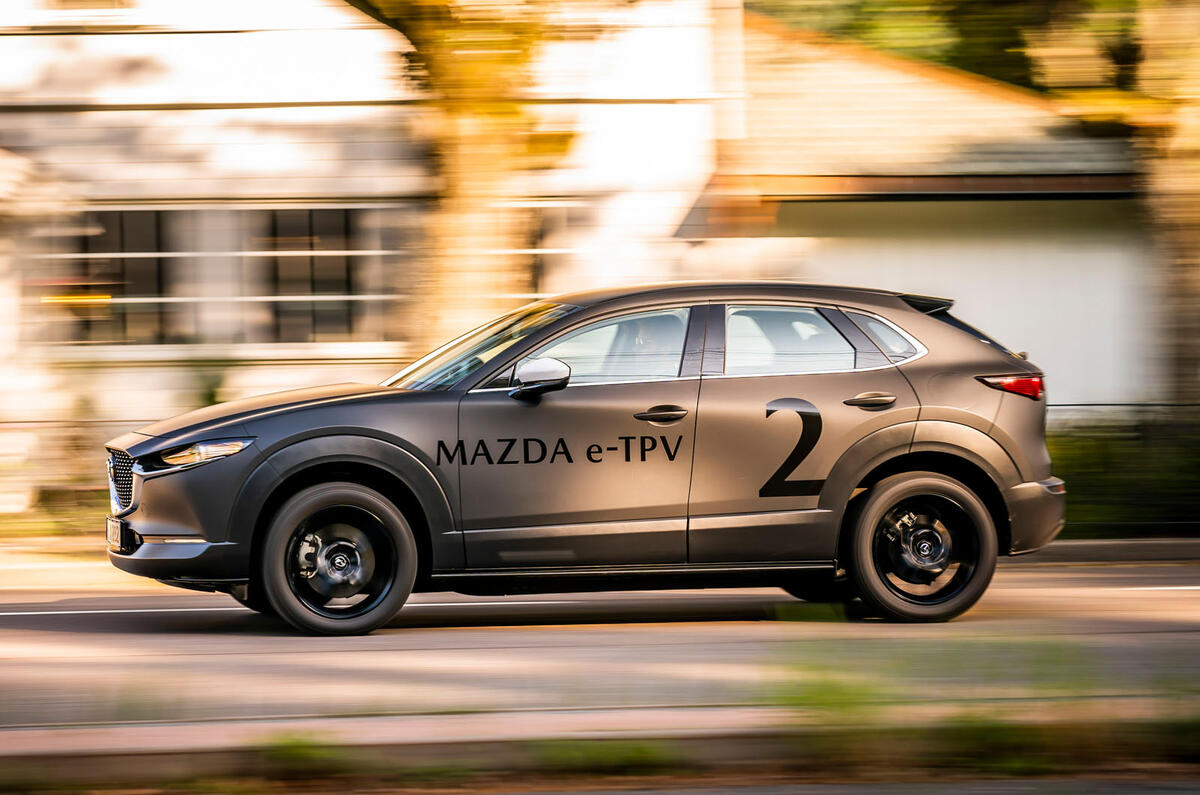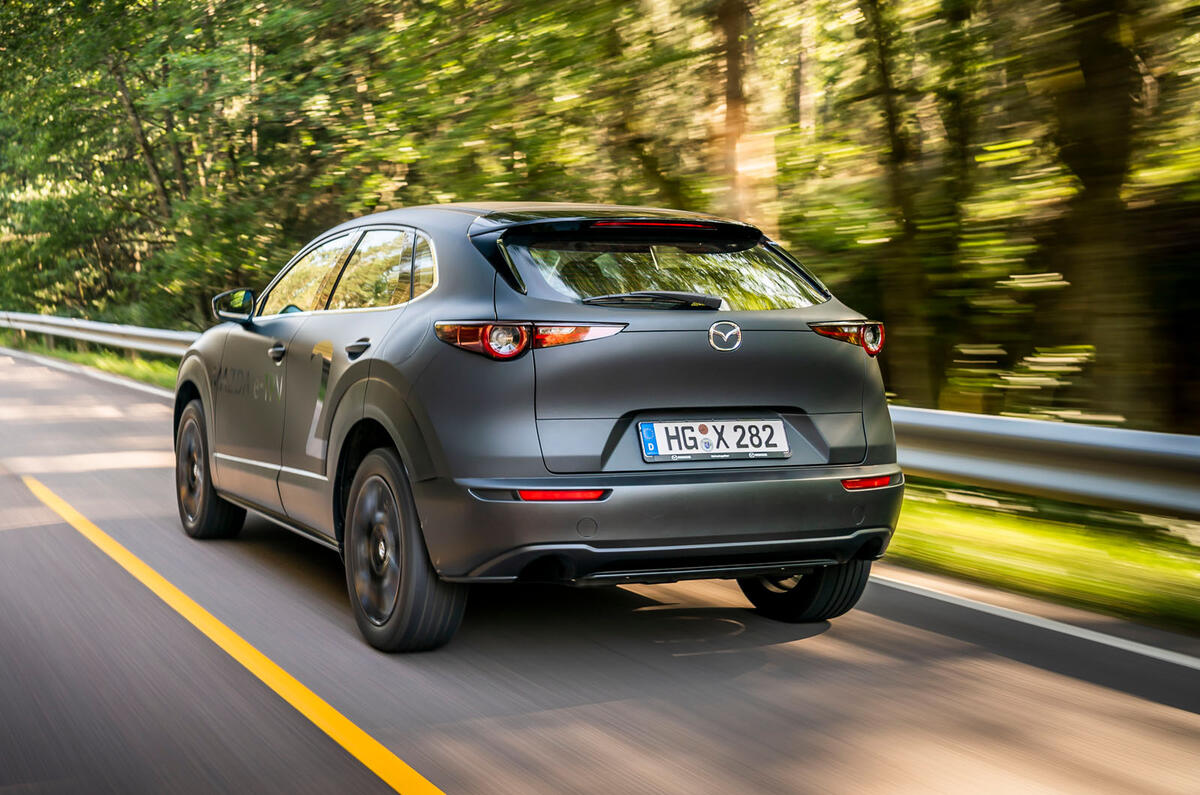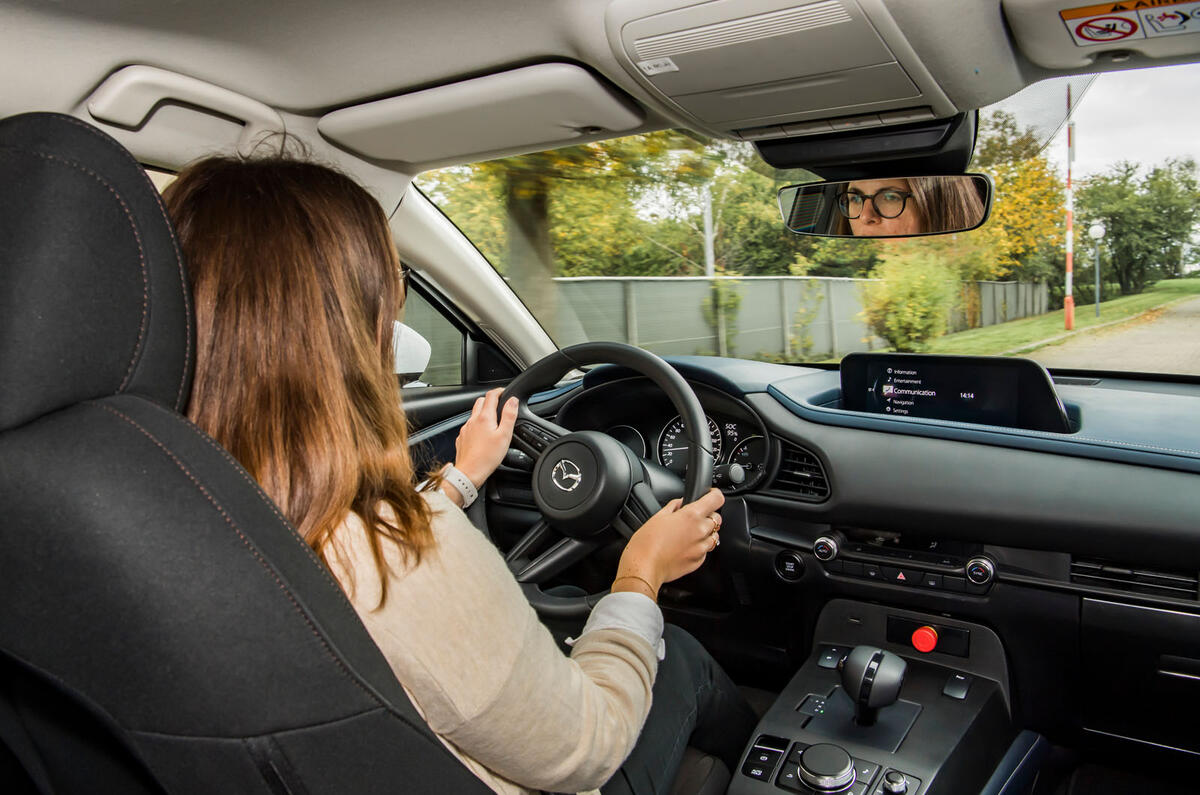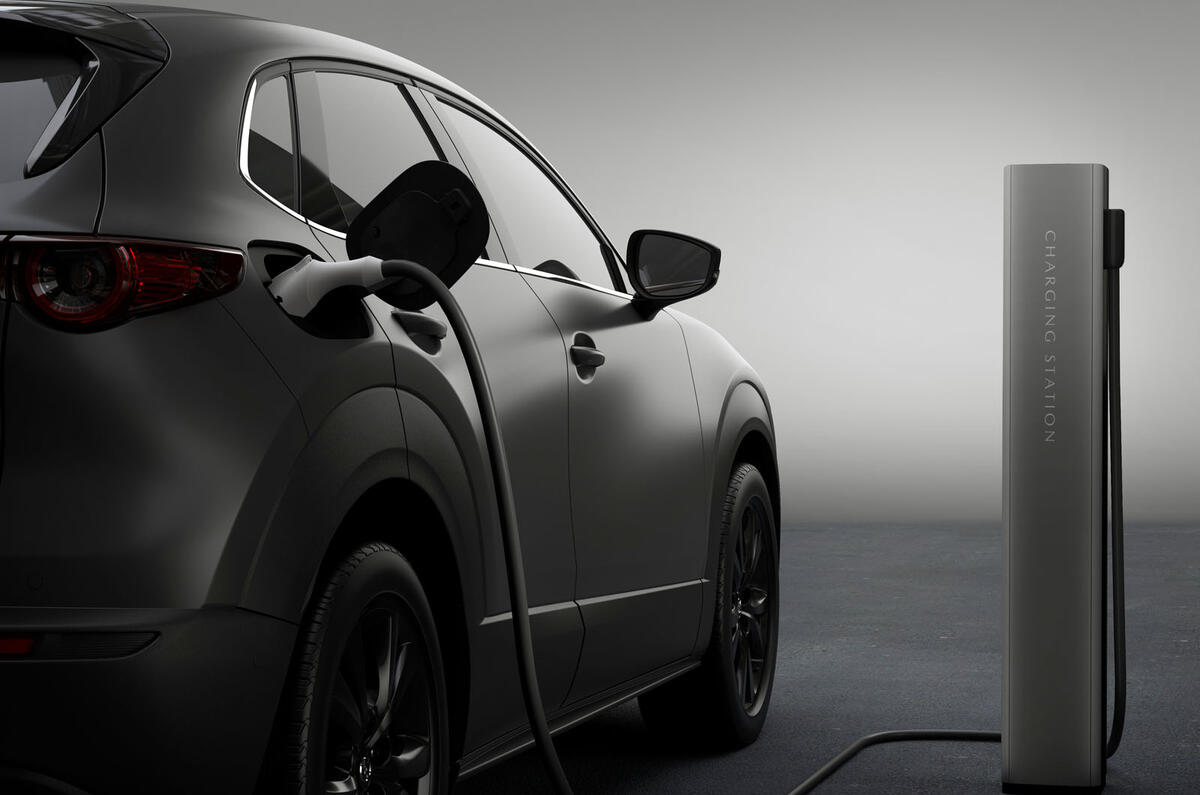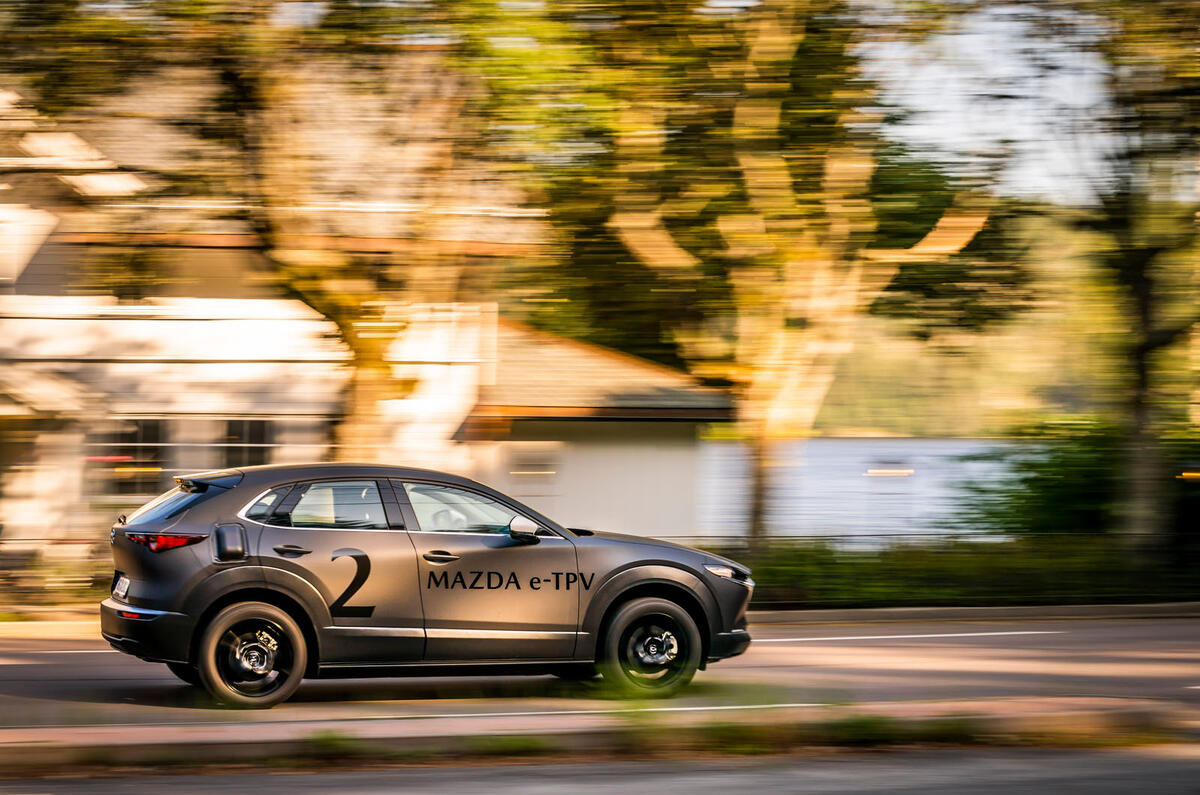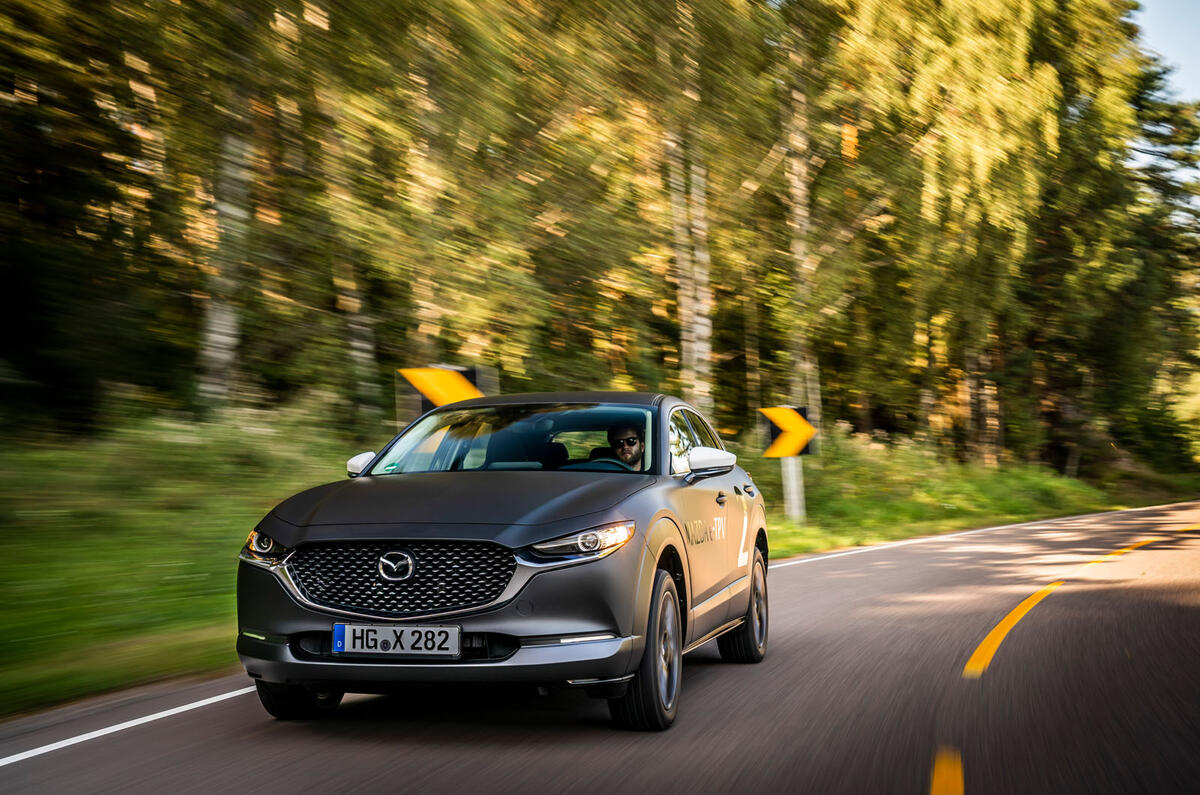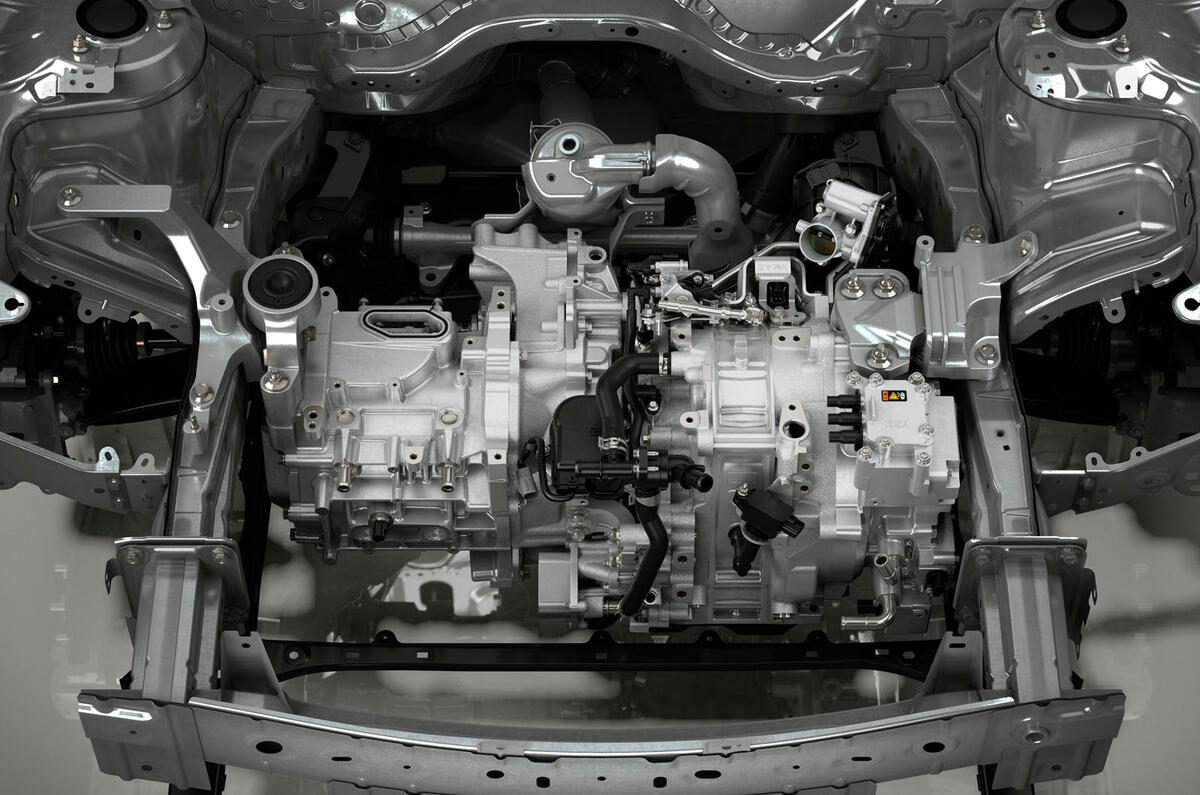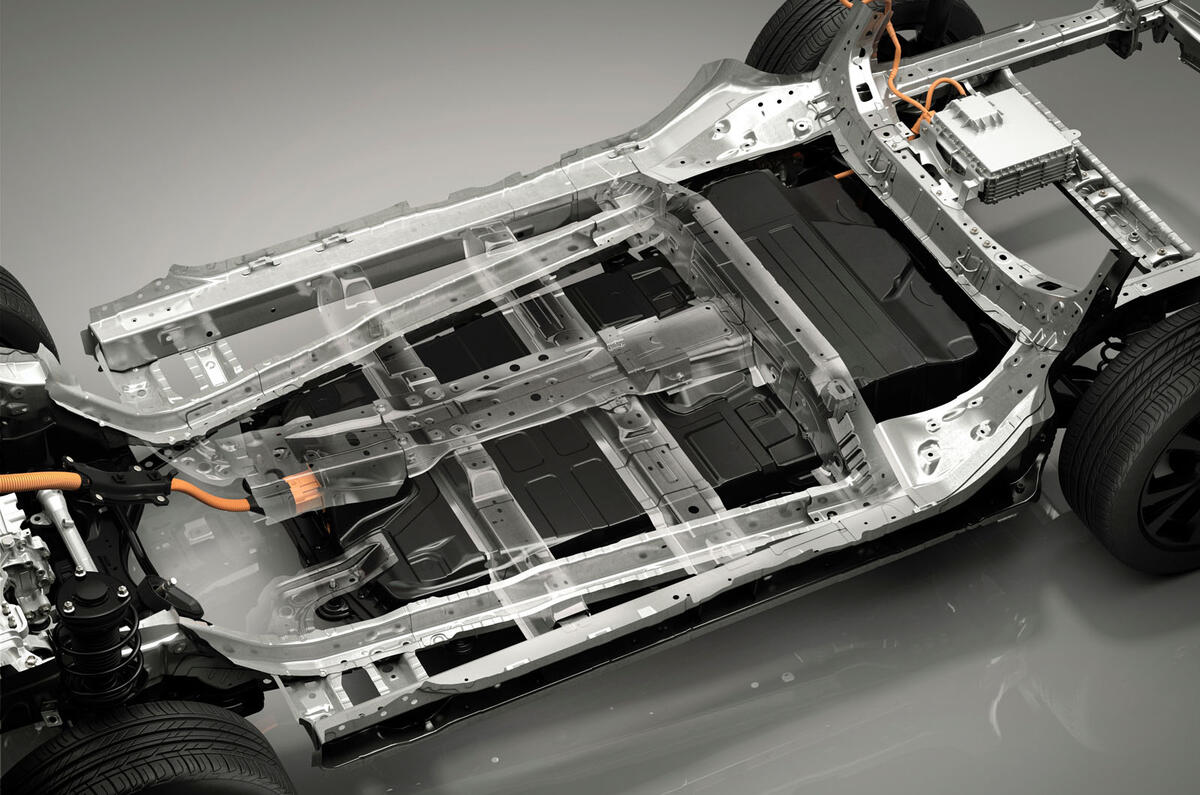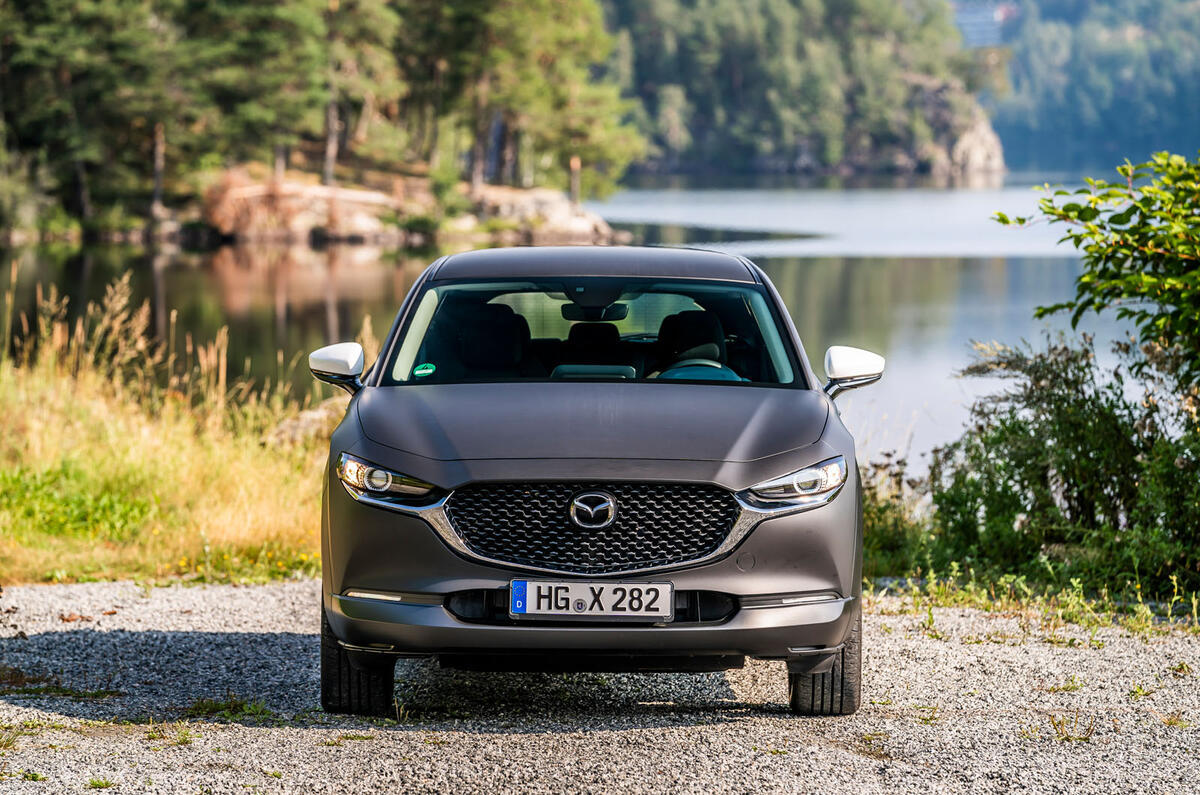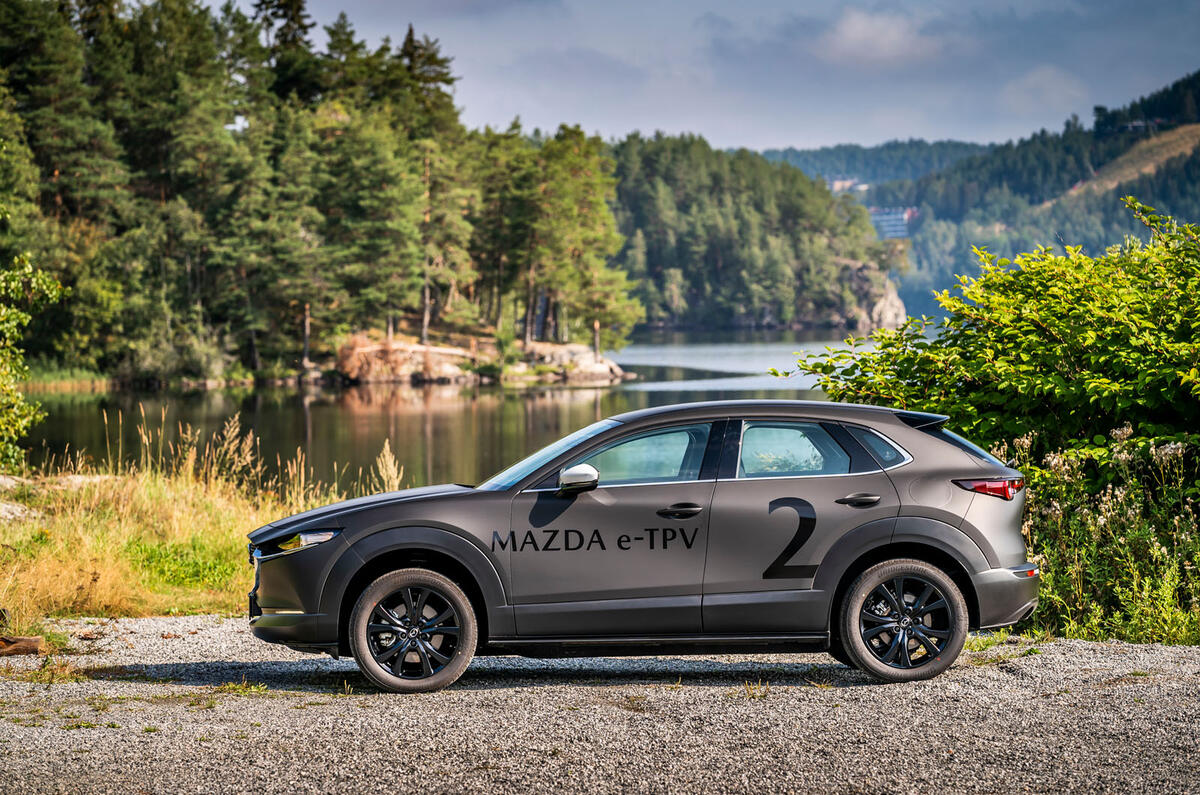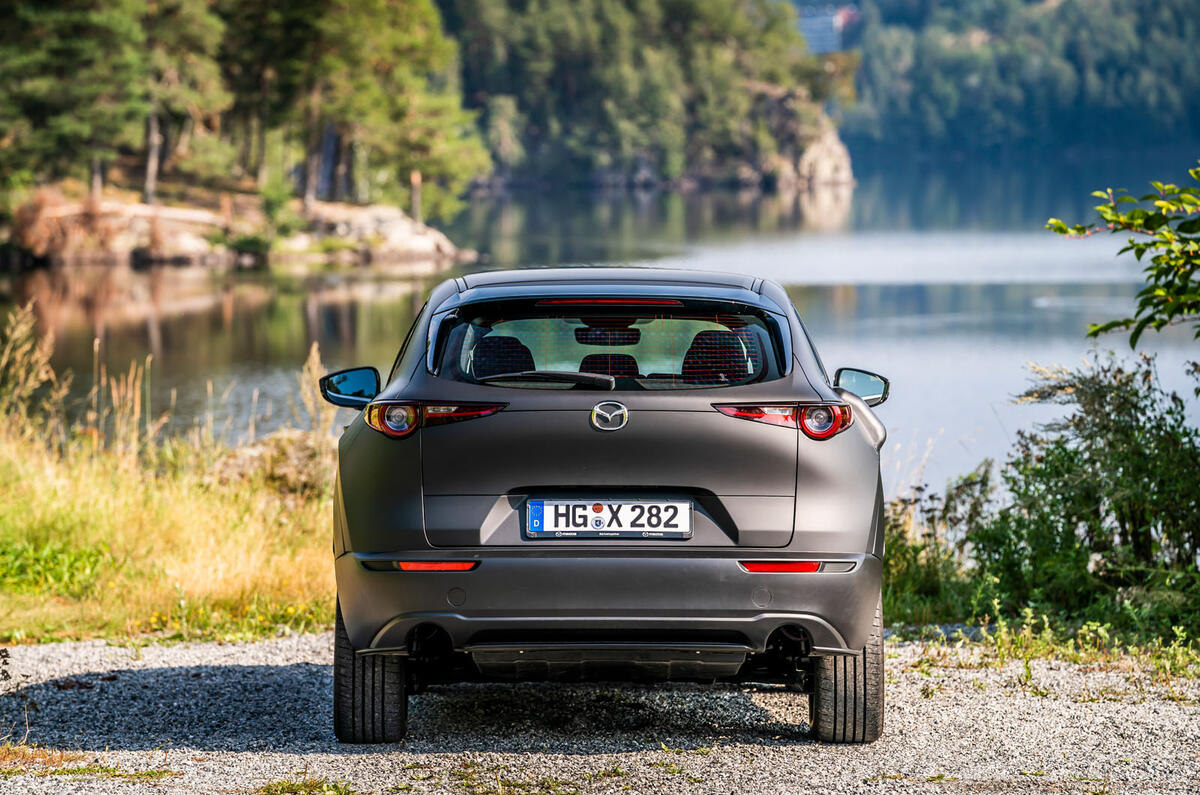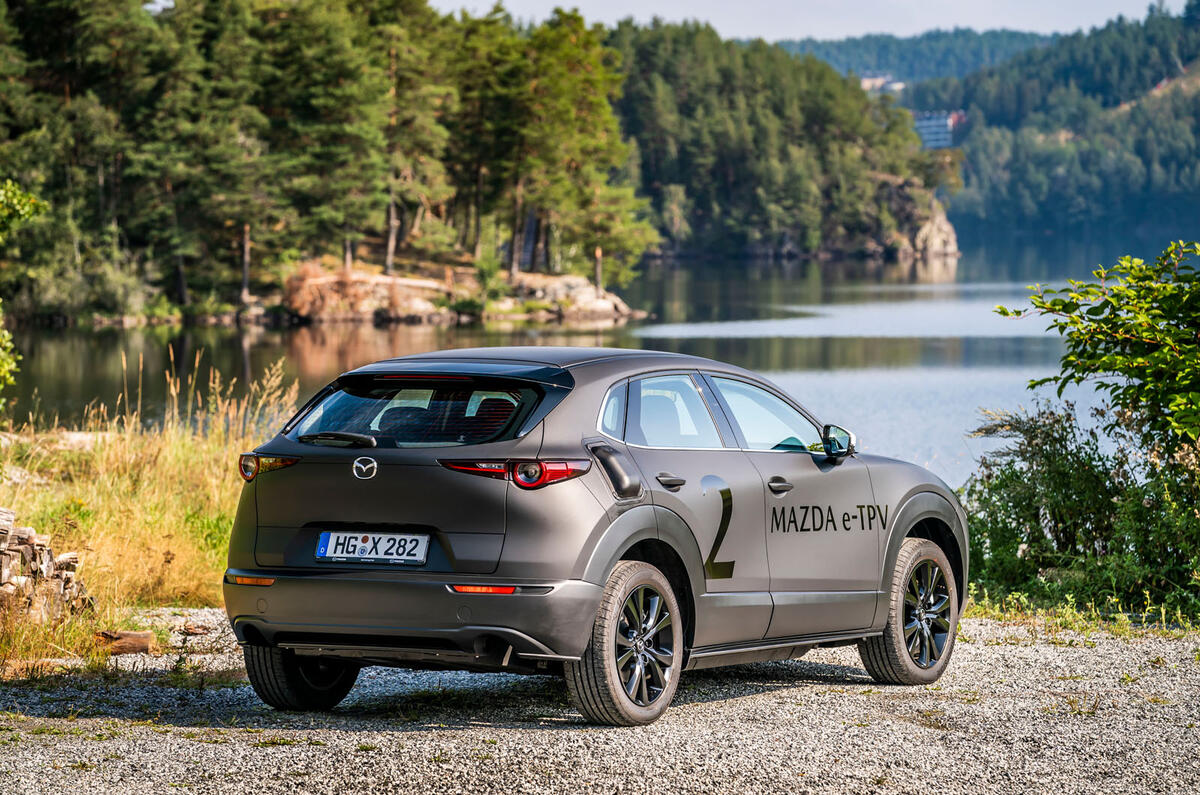 It's fair to say Mazda hasn't been quick off the mark for electrification, instead choosing to focus on improving the delivery of traditional fuels. One outcome has been the impressive spark plug-controlled compression ignition technology, introduced on the new Mazda 3, which promises to "combine the economy and torque of a diesel engine with the performance and lower emissions of a petrol unit".
Nonetheless, no maker can put off the inevitable – introducing an electric model – for much longer, given the next tranche of emissions targets landing in 2021. And so we find ourselves in Frankfurt, Germany, driving the prototype of Mazda's first EV, disguised beneath the body of the upcoming CX-30, just days before the model is fully revealed at the Tokyo motor show.
The production EV will be a small SUV, able to accommodate the underfloor battery but also be suitable for city driving, given its relatively short range – expected to be less than 150 miles on a single charge, provided by a 35.5kWh battery.
Mazda has a different reason to most firms for its relatively small range. It's looked at the entire lifecycle of a car and how that affects emissions, and found that a 35.5kWh battery produces fewer emissions than a petrol-powered 3 or an EV using a massive 95kWh battery (as the Audi E-tron does).
Christian Schultze, research and development boss at Mazda Europe, said: "We should not be excessive with battery size. We should understand how much range does a customer really need? How much battery can we avoid to reduce CO2 substantially? We deceded 35.5kWh is a useable size where you can do your shopping, take kids to school and go to the office before you need to recharge."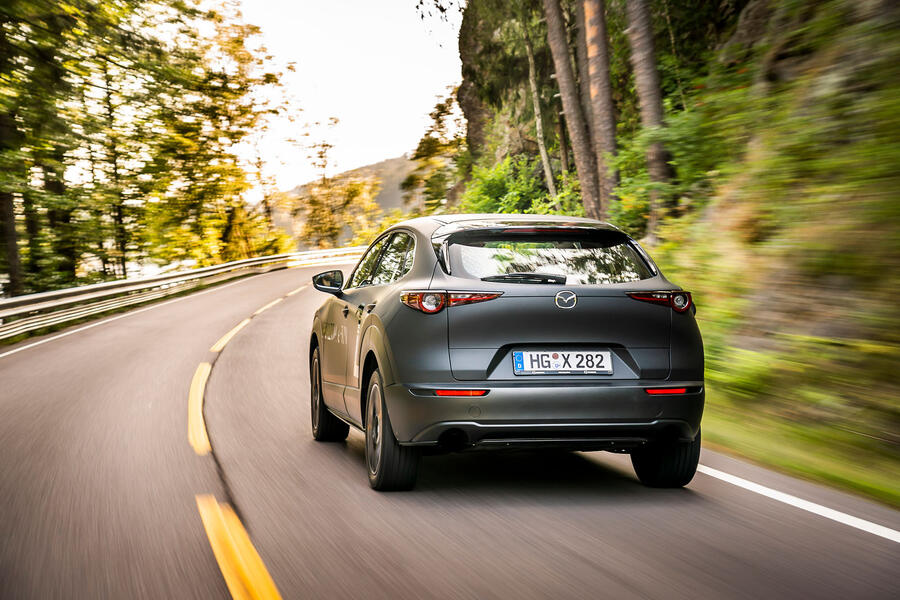 What's most refreshing about Mazda's EV, on roads before the end of next year, is how different its approach is to existing EVs on sale today, Those who have driven a few EVs will be familiar with their typical characteristics: instant torque, near-silent motion and one-pedal driving. None of those apply here.
Mazda has single-mindedly chosen to go another route, and it's immediately noticeable behind the wheel. Press the throttle and there's a far more progressive line of acceleration, which feels very different to the instant torque of other EVs. That's intentional, says Mazda, because it wants it to feel like any other car. Schultze comments: "We wanted to make a car that you understand is a car from basic technologies about cars. We wanted to make a true Mazda."
The EV has a middling power output of 141bhp and 195lb ft from a single AC synchronous motor, but it feels ample in almost all situations. Exceeding UK speed limits on a German autobhan was the only time where it felt you had to be committed to the throttle to maintain speed.
Deceleration is another major differentiator between this prototype and a typical EV. It shuns the one-pedal mode of driving for a more traditional setup. There is a small amount of regenerative braking when coming off the accelerator, but most comes from using the brake pedal. Schultze says: "For strong deceleration, we think the brake is better, because it moves in the direction of our body. It has the same efficiency as the one-pedal of other EVs but has human advantages."
However, Heiko Strietzel, European powertrain boss, explains that Mazda is still working on various scenarios. "There is some need to provide options to change deceleration level. So, we will offer a more aggressive option in terms of [regenerative] deceleration, but we won't provide a full one-pedal."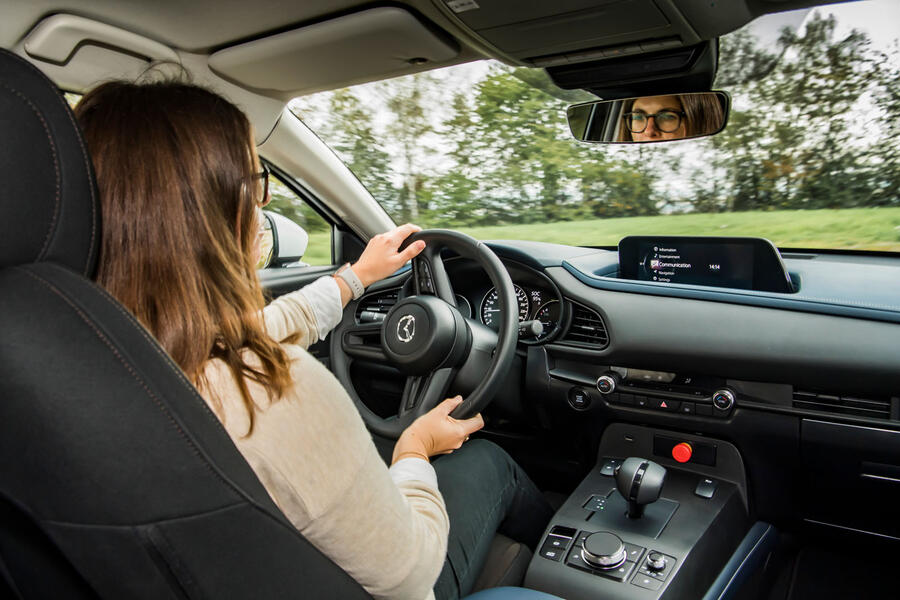 The third contrast is Mazda's decision to implement artifical sounds to reflect acceleration, again more closely aligning to a combustion-engined car. It's still fine-tuning the sound, but its intention is to "give realistic feedback through sound on how much torque is being used," said Schultze, as well as bridging the gap between combustioned-engined cars and EVs. It's a subtle sound, more calming than that of an ICE car but not so much as a silent EV. For those adjusted to the silence of EVs it might be disconcerting, for those new to EVs it might be comforting… Mazda says it's currently discussing whether it will offer an option to turn the sound on and off from inside.
While the sound and deceleration qualities are still being tweaked, one area where Mazda is broadly happy is the EV's handling. It uses a platform derived from the new architecture that underpins the 3 and CX-30, but with increased ring structures around the battery and floor in order to achieve a "super stiff and fast-reacting body," according to Schultze. Mazda's G-Vectoring Control also plays an important part in the EV's handling, with Mazda explaining that you can achieve "tiny torque control with an electric motor that you can't with an engine", helping to stabilise the car around corners as well as during downhill driving. On our short drive, the prototype impressed on this front, feeling well-planted around corners, helped by its low centre of gravity.
All in all, then, Mazda must be commended for what it's achieved so far. Not only does this prototype feel original to drive for an EV, but also – for those who desire it – more like a car in the traditional sense of the word.
For now, Mazda's attention is on launching its EV, but a range-extender variant will be added to the model line-up before long. Excitingly, it will be powered by Mazda's famed rotary engine. The Japanese firm hasn't offered a rotary-engined road car since the RX-8 went out of production in 2012, but it has remained interested in reintroducing the technology to production since. The RX-Vision concept, which was shown at the Tokyo motor show in 2015, used such a powertrain.
Schultze says: "With the rotary engine range extender, we can recharge during driving and the car becomes long distance. It is a multi-fuel engine, so in the future, we could use with CNG, LPG, hydrogen. We think it's important to have a global view." The model could also offer plug-in hybrid and series-hybrid variants.